SUR Lab Launch Event: How can we shape the future of our cities?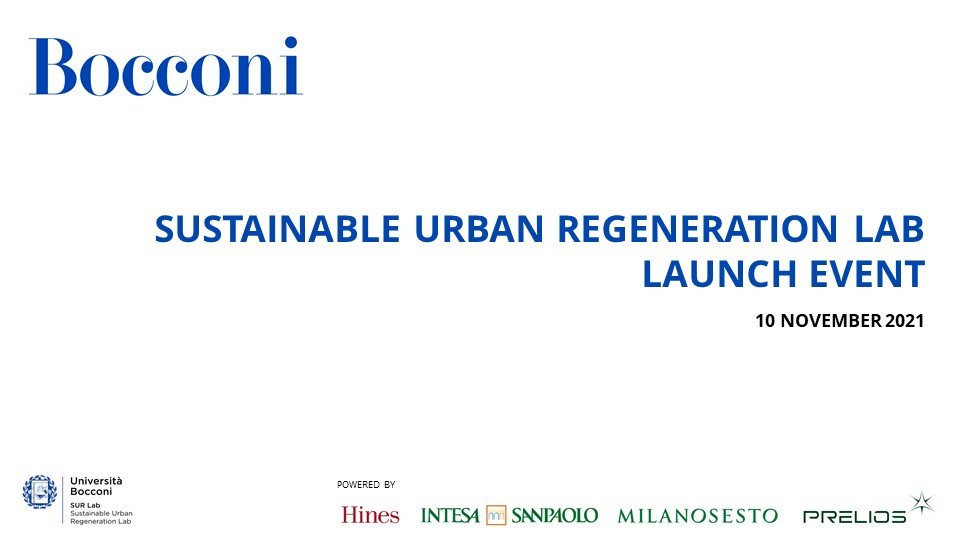 Shaping the future of cities - Sustainable Urban Regeneration Lab Launch Event - 10 November 2021
We live in a world of cities. Today, 55% of the world population lives in urban areas, covering 4% of the planet's surface. They consume 75% of global primary energy and are responsible for 80% of CO2 emissions. Cities are where wealth is created and where innovation has placed. Cities are also frontrunners in fighting climate change and social inequalities, and play a central role in improving resilience and quality of life.
Making cities more sustainable is at the core of national, European and global agendas, and sustainable urban regeneration practices represent a crucial pathway to address urban challenges.
On Wednesday, 10th November 2021, Bocconi University has launched the Sustainable Urban Regeneration Lab aimed at promoting research and education on sustainable urban regeneration, with the contribution of four Partners Hines, Intesa Sanpaolo, MilanoSesto and Prelios.
"By sustainable urban regeneration," explains SUR Lab Director Edoardo Croci, "we mean interventions that do not involve land consumption, ensure high standards of energy efficiency, contribute to circularity and utilize nature-based solutions. This approach makes it possible to generate individual and social value and to increase not only infrastructural capital, but also human, social and environmental capital."
During the event, international speakers and institutional representatives discussed the main topics involved in urban regeneration, highlighting the relevance of promoting multidisciplinary research in this field.
The opening conference has been attended by the following speakers.
GIANMARIO VERONA Rector, Bocconi University
MASSIMO GAUDINA Head of Representation in Milan of the European Commission
EDOARDO CROCI Director of the SUR Lab, Bocconi University
MARIO ABBADESSA Senior Managing Director & Country Head, Hines Italy
ENRICO GIOVANNINI Italian Minister of Sustainable Infrastructures and Mobility
CARLO MESSINA CEO of Intesa Sanpaolo, Chair of the B20 Finance and Infrastructure Task Force
ANDY BOW Senior Partner - Deputy Head of Studio, Foster + Partners
RICKY BURDETT Director, LSE Cities
SILVIA GANZERLA Policy director, EUROCITIES
LAMIA KAMAL-CHAOUI Director, Centre for Entrepreneurship, SMEs, Regions and Cities, OECD
PIA LAURILA Policy Officer, Directorate-General for Regional Policy and Urban Affairs, European Commission
To know more about keynote speakers, here you can find their profiles